Mobile operator data, and particularly Call Detail Records (CDRs), have a huge potential to support decision-making in low- and middle-income countries but their use is still currently in its infancy.
Many governments in low- and middle-income countries are recognising the need to adopt new data sources and systems in order to fill 'data gaps' and enable governments, civil society and the private sector to meet their development goals. To bring timely and accurate data to these actors, we are leveraging Call Detail Records (CDRs) for the common good. Compared to traditional phone or field surveys, CDR data have the advantage of being generated automatically on a real-time basis as a by-product of cell phone network subscriber interactions. There are a lot of applications for these data, notably supporting the allocation of resources in disaster response contexts, informing disease spread models, and public planning.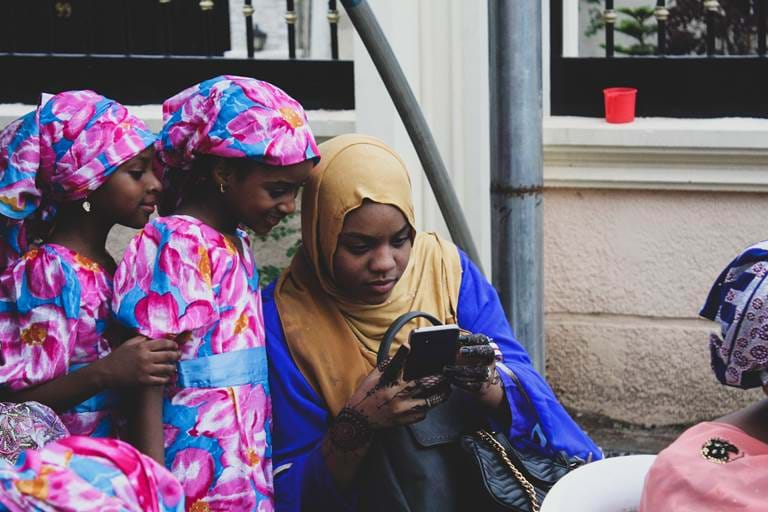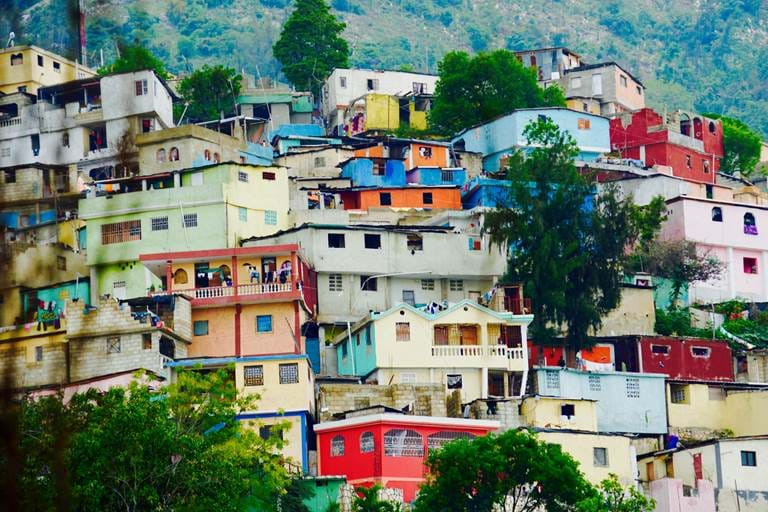 However, several challenges are preventing the routine use of CDRs for decision making in these countries. These include, among others, complex legal and regulatory approval processes for third party access to mobile operator data; the lack of mobile operator's capacity to manage and process CDR data for social good or the lack of financial incentives for operators to share data and manage data releases over the long term. Consequently, the access and analysis of CDR data by in-country stakeholders have been limited.
With the support of the Agence française de développement (French Development Agency, AFD) and the William & Flora Hewlett Foundation, and the collaboration with Digicel Haiti, this is what OPAL by Flowminder is aiming to overcome.  
Flowminder's programme: OPAL for mobile operator data
The OPAL by Flowminder programme focuses on enabling the increased access to and use of mobile operator data, in low- and middle-income countries, in ways that are ethically sound, financially viable, and sustainable. 
With this solution, we aim to support the achievement of the Sustainable Development Goals, through the provision of a secure and accessible web platform, providing CDR-based mobility information produced by our FlowKit software. The programme builds on our experience gained across 18 low- and middle-income countries over the last decade, and FlowKit.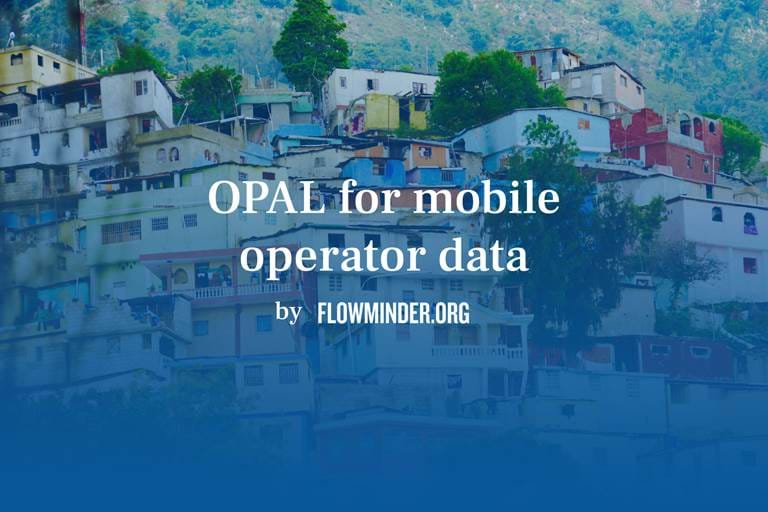 Origins
OPAL was originally developed by a group of partners from the MIT Media Lab, Imperial College London, Orange Group, Telefonica Group, the World Economic Forum and Data-Pop Alliance in 2017 (hereafter the founders), with the support from the Agence française de développement (French Development Agency, AFD) and the William & Flora Hewlett Foundation. 
OPAL by Flowminder is an implementation of the OPAL concept, focusing on partnerships with mobile operators. The vision of the OPAL concept  is to unlock the potential of private data from a variety of sectors from mobile operators to banking, health and much more in a privacy-conscious and sustainable manner. The founders of OPAL approached Flowminder in early 2020 to lead the 'OPAL for mobile operator data' initiative to operationalise and scale it globally.
OPAL's vision & our solution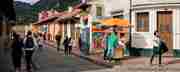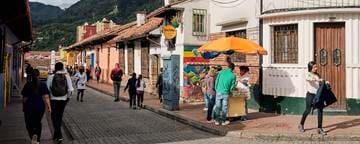 Flowminder's OPAL ecosystem for mobile operator data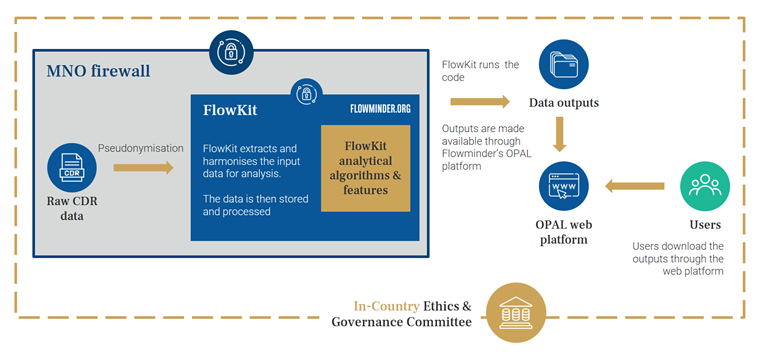 Technology: an online platform to facilitate data use
The main engine behind OPAL by Flowminder is FlowKit, our open-source suite of software tools designed to enable the secure access and analysis of CDR data. FlowKit is a software run behind the operator's firewall. It provides a range of analytical features to extract aggregated data about subscribers' characteristics, network usage, mobility patterns and more. Flowminder's OPAL programme will allow us to further develop the toolkit over the coming years to bring in more features that will be made openly available. Through this work, we will see the integration of a FlowKit user interface, an online platform which will enable approved third parties to easily and securely access FlowKit's mobility indicators. The information available via the platform are anonymous and aggregated statistics. This will significantly scale the impact of these data, which are at the moment very hard to gain access to.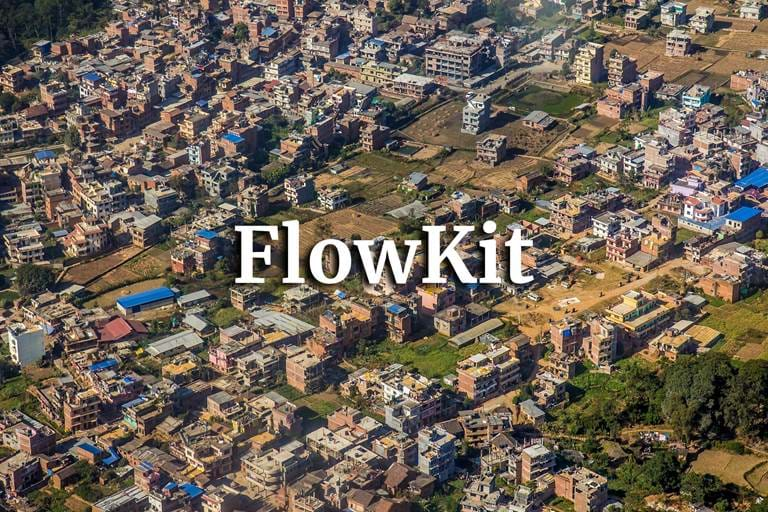 OPAL and FlowKit integration
FlowKit and OPAL by Flowminder are intrinsically linked: FlowKit is the software and platform serving the programme with anonymous and aggregated mobility information. These privacy-preserving technologies will be supported by participatory governance systems that together will form the OPAL by Flowminder programme. The web platform will host FlowKit outputs and will realise one of the key aspects of our vision: sharing mobility data more easily, in a privacy-secure manner, with third parties from the public and the private sector.
Data privacy, governance and ethics
OPAL by Flowminder, like all mobile operator data based activities at Flowminder, abides by the strictest standard for protecting subscribers' data privacy. All the statistics are strictly aggregated, meaning that no individual data is ever exposed. Furthermore, it complies with national regulations on data privacy and is GDPR compliant. Flowminder acts as a data processor and each participating mobile operator as a data controller.
Governance & Ethics Committees
OPAL refers to Open Algorithms; our vision for this work is to ensure transparency and accountability of our outputs towards the communities we want to serve. In each country where our programme is set up, a national committee composed notably of representatives of civil society will monitor the work to ensure that all programme outputs are fair, ethical and transparent. These committees will not only play this key role of increasing transparency toward civil society, they will also contribute to the identification of new users and new applications beneficial for the country and its people.
Business model & sustainability 
The OPAL by Flowminder programme will be based on a freemium model. One portion of the web platform will be free and will be providing some key mobility metrics at relatively low resolution. The other portion of the platform, accessible conditional on payment, will be providing information at higher spatial and temporal resolution. This new business model aims at allowing OPAL to be less dependent on donor funding and see OPAL users contribute to its maintenance and development.
If you are a mobile operator interested in collaborating, or if you want to find out more about the OPAL by Flowminder or FlowKit solutions, please contact us:
Flowminder's OPAL programme in Haiti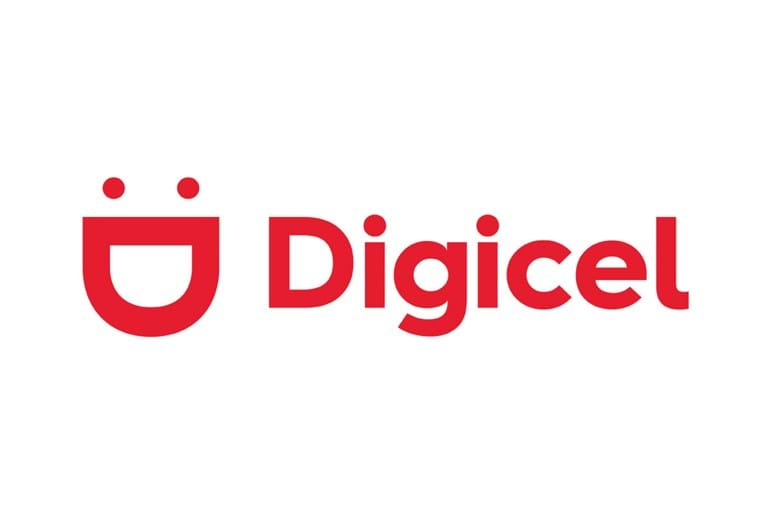 Digicel Haiti
Mobile network operator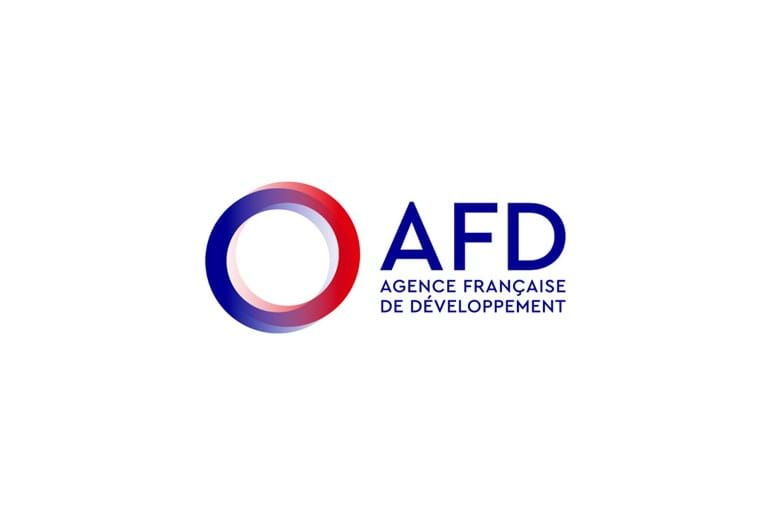 Agence Française de Développement (AFD)
Donor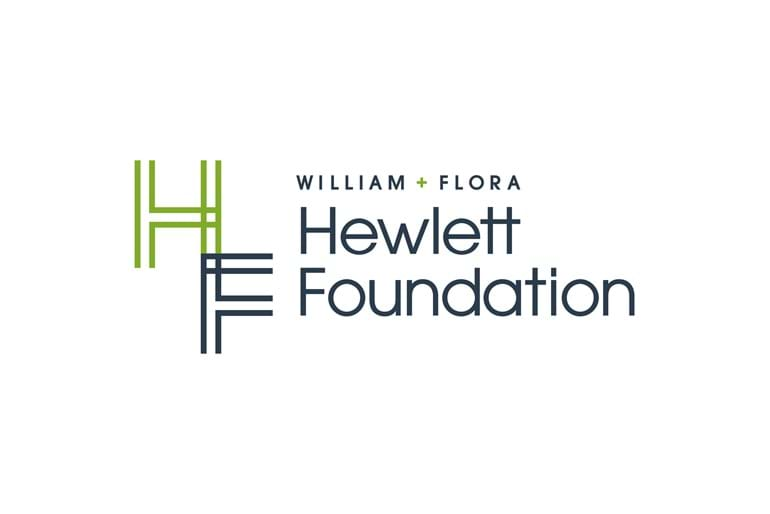 William + Flora Hewlett Foundation
Donor
Advisory Board
The Advisory Board is composed of the OPAL founders - their role is to advise us on potential ways forward, on topics such as business models, technology and product development, partnerships with operators, governments or academia, or engagement with  users. The creation of this board will enable us, who will be making final decisions, to get the perspectives and advice on the development of their OPAL approach for sustainability.