We are excited to announce our upcoming webinar, co-organised with our Data for Good partners in Ghana - Ghana Statistical Service and Vodafone Ghana.
This webinar will shed light on the topic of modernising national data ecosystems in Africa, through the use of big data for official statistics. The event will take place on Wednesday 10 May 2023 from 14:00 - 15:30 GMT, and registration is now open: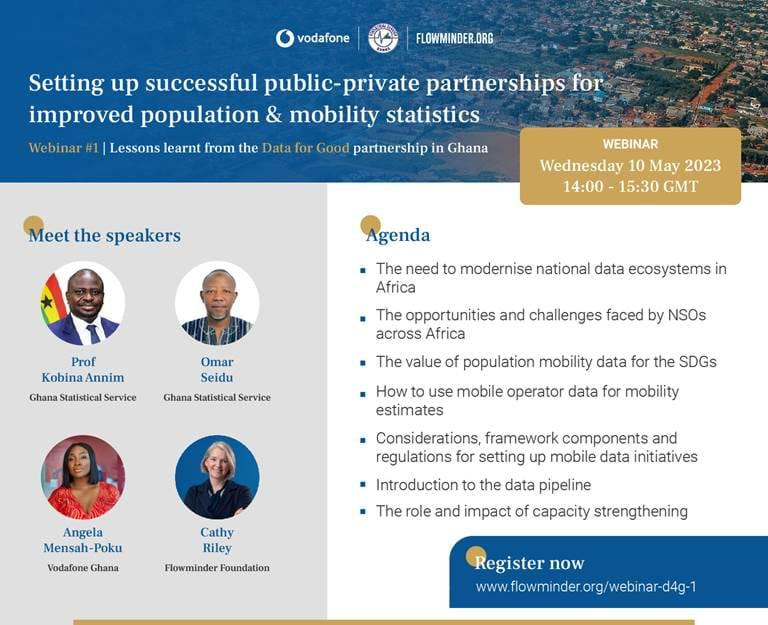 Angela Mensah-Poku, Director of Digital Transformation and Commercial Operations at Vodafone Ghana; Omar Seidu, Head of the Demographic Statistics and SDGs Coordinator at Ghana Statistical Service (GSS); and Cathy Riley, Strategic Partnerships Director at the Flowminder Foundation will share their expertise and insights on setting up mobile data partnerships, the benefits and opportunities such partnerships can bring, and the approach taken in Ghana to make it successful. The session will be moderated by Richard Doe-Sallah, External Communications Specialist at Vodafone Ghana, and will end with a live Q&A session.
The agenda for the webinar includes:
The need to modernise national data ecosystems in Africa.
Exploring the opportunities and challenges faced by National Statistical Offices (NSOs) across the continent.
Highlighting the importance and value of population mobility data for achieving the Sustainable Development Goals (SDGs).
Understanding how mobile operator data can be utilised for accurate mobility estimates.
Exploring considerations, framework components, and regulations for setting up mobile data initiatives.
Introduction to the data pipeline, ensuring data privacy, security and efficient data flow and management.
Strategies for capacity strengthening and ensuring sustainability of data initiatives.
This webinar is a unique opportunity for NSOs in Africa and around the globe, policymakers, and mobile network operators interested in leveraging data for sustainable development in Africa.
If you want to gain valuable insights, learn best practices, and understand the potential of mobile data for informed decision-making, secure your spot now.