The Flowminder/WorldPop team has continuously distributed reports on population displacement in Nepal since the April 2015 earthquake. Reports have been produced together with UN Office for the Coordination of Humanitarian Affairs (UN OCHA) and provided a key information source on the largest-scale displacement taking place after the disaster.
Background
For many years Nepal has been one of the highest-risk countries in terms of the potential for a devastating earthquake. In light of this high potential risk, Flowminder and Ncell (the largest mobile operator in Nepal) agreed a collaboration in December 2014 to be able to respond to potential future earthquakes and to support long-term development objectives in Nepal. With support from the Rockefeller Foundation, the project was initiated and rapid response capacity set up by the Flowminder team in Kathmandu, 1 week before the earthquake occurred.
The devastating earthquake struck on 25th April at 11:56 NST, with the epicentre located in Gorkha District. The earthquake had a magnitude of 7.8 Mw1 and in total more than 9,000 people were killed, while 23,000 people were injured. After the initial earthquake, more than 300 aftershocks with a magnitude of 4.0 Mw1 or greater followed. An estimated 500,000 buildings were destroyed or severely damaged and economic losses have been estimated at $7,065 million US dollars. It was the worst natural disaster to affect Nepal since the 1934 Nepal-Bihar earthquake.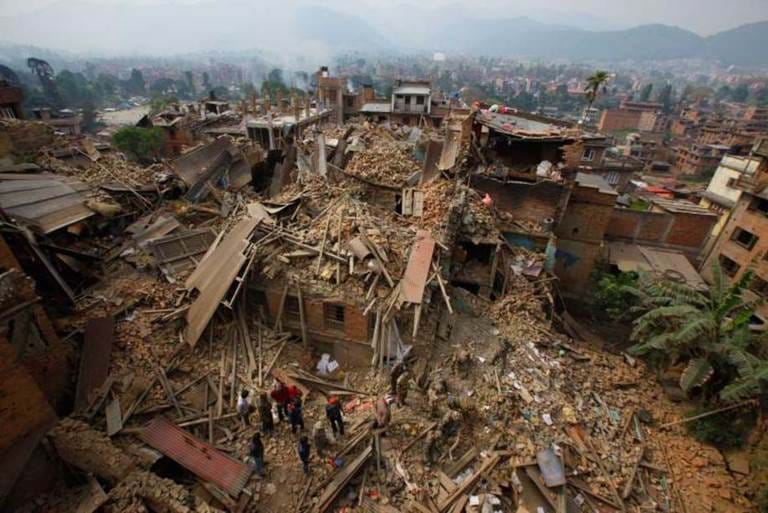 Our response
In the earthquake aftermath, it was immediately apparent that there were mass movements of the population. Initially these occurred as people fled affected areas. In the Kathmandu Valley, large numbers of people moved to sleep in open areas after losing their houses or due to fear of aftershocks. Similar patterns of large population movements occur in most major disasters. Very limited information is available to understand where affected people are located once these movements have begun. Flowminder researchers Dr. Bengtsson and Dr. Lu pioneered the use of anonymous mobile operator data to assess population displacement after the Haiti earthquake and cholera outbreak. These data are crucial to understand where affected people are located, which is essential for effective humanitarian response operations.
With the pre-earthquake preparations that had been undertaken, the Flowminder team, together with Ncell, could quickly start analysing the mobile operator data. Following the initial earthquake, the WorldPop project mapping team rapidly produced updated static population density maps with a spatial resolution of 100mx100m, including gender and age distributions for Nepal. These data were used by UN OCHA and other key relief agencies in estimations of the number of people affected. The Flowminder and WorldPop mobile analysis team then used these population data in combination with the Ncell anonymised data from 12 million mobile phones in Nepal, to quantify the impact of the earthquake on population movements.
Despite pre-earthquake preparations not being completed, the team successfully released the first comprehensive analyses of population displacement less than two weeks after the earthquake. These results were released as a report to the United Nations and a range of relief agencies. After adjusting for normal population movement patterns, which would have occurred in the absence of the earthquake, the Flowminder analysis showed that an estimated additional 500,000 people had left Kathmandu two weeks after the earthquake. The majority of these went to the districts surrounding Kathmandu and to the Terai areas in the south and south-east of Nepal, which previously was completely unknown. In terms of population movements out of home districts, an estimated 1.8 million people above normal levels had left their home districts. Since the initial report, a number of further reports have been released, published either by Flowminder directly or in collaboration with UN OCHA, and disseminated through the official UN OCHA information channels for key data for response efforts.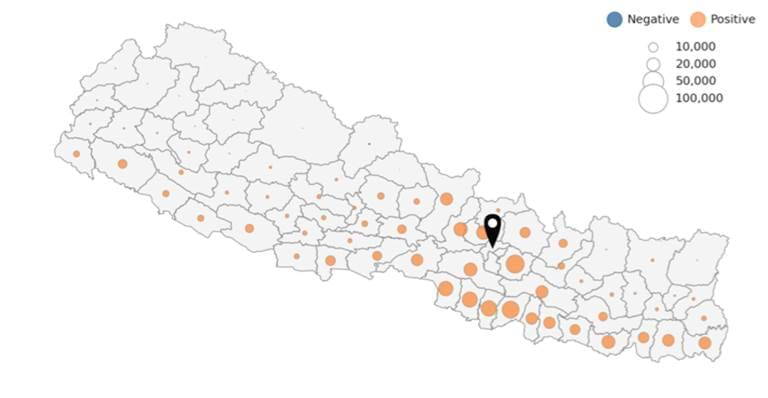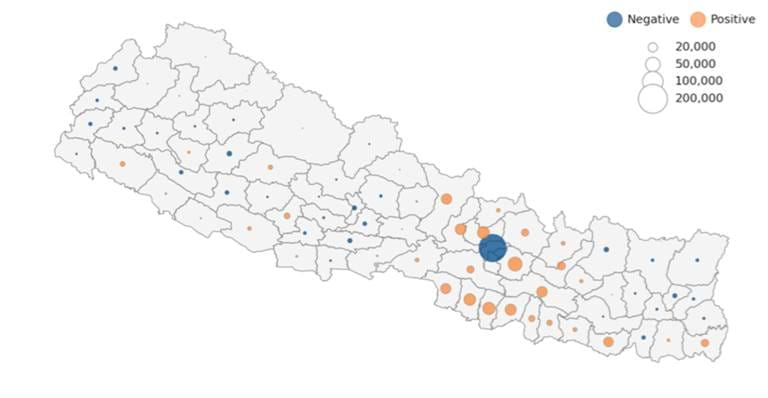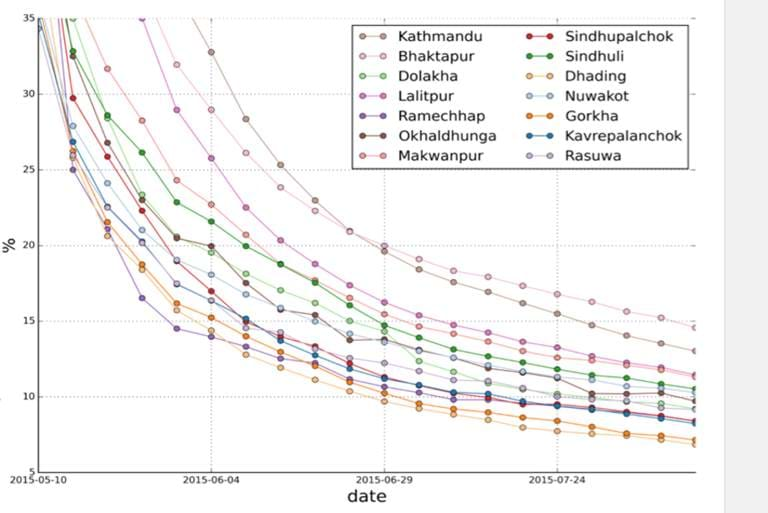 Despite the tragedy and destruction caused by the earthquake, researchers in a recent article in Science concluded that the April 2015 earthquake was not "The Big One". The strain relieved by this earthquake was concentrated in a small stretch of the fault along the northern border of India. To the west however, a large extent of the fault remains locked and has been accumulating strain since 1505.
Next steps
Flowminder continues to analyse post-earthquake population movements in Nepal.
Flowminder is now working with key organisations to ensure that the capacity to respond with similar analyses in future earthquakes and disasters can be maintained, as well as planning for the implementation of several analysis products to support development and public health in Nepal going forward. Furthermore, the methodology applied by Flowminder during the Nepal earthquake response has been compiled into a PLoS Currents Disasters paper, available here.
Response Team
Alessandro Sorichetta
Andy Tatem
Carla Pezzulo
Caroline Buckee
Chris Hughes
Daniel Power
Elisabeth zu Erbach-Schoenberg
Erik Wetter
Heather Chamberlain
Jason Hilton
Linus Bengtsson
Maximilian Albert
Miguel Gonzalez Canudas
Robin Wilson
Simon Tudge
Xin Lu
The Global Mobile Awards 2016
Flowminder (in partnership with TeliaSonera and Ncell) were awarded the Global Mobile Award for 'Mobile in Emergency or Humanitarian Situations' in February 2016. This success reflected months of hard work and groundbreaking advances made in the aftermath of the Nepal 2015 earthquake. One such advancement, the introduction of 'returns analysis' to Flowminder's reports, proved to be extremely significant for the humanitarian agencies operating in Nepal, and contributed heavily to the strength of our application. Below you can find several testimonials related to Flowminder's operations in Nepal, and further resources relating to the awards.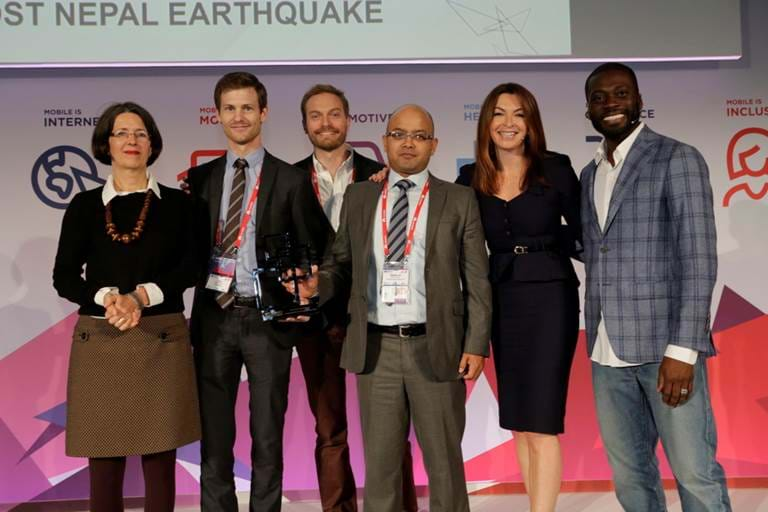 "When the first Flowminder report came out after the Nepal earthquake, we used it right away in our national assessment of food security. Displaced people are often the most food insecure. Getting national and district level numbers on displaced populations was thus an important component in our assessment of where to focus support after the earthquake. The Flowminder analyses were widely read and circulated in the humanitarian community during the Nepal earthquake disaster response operations."
Kurt Burja, United Nations World Food Programme.
"The Flowminder approach and analytics contribute to a paradigm shift in understanding the scale and distribution of internally displaced populations - indeed they provide real leadership in the way we will address these challenges in the future. Internally displaced people are often lost from the eues of policy makers and have to fend for themselves. Many disappear from our radar into urban slums. With the Flowminder analytics we may now be able to count them more quickly and accurately, and thus reach them with support."
Justin Ginnetti, Head of Data and Analysis, IDMC.