By Alessandro Sorichetta, Graeme M. Hornby, Forrest R. Stevens, Andrea E. Gaughan, Catherine Linard, and Andrew Tatem.
Abstract
The Latin America and the Caribbean region is one of the most urbanized regions in the world, with a total population of around 630 million that is expected to increase by 25% by 2050. In this context, detailed and contemporary datasets accurately describing the distribution of residential population in the region are required for measuring the impacts of population growth, monitoring changes, supporting environmental and health applications, and planning interventions. To support these needs, an open access archive of high-resolution gridded population datasets was created through disaggregation of the most recent official population count data available for 28 countries located in the region. These datasets are described here along with the approach and methods used to create and validate them. For each country, population distribution datasets, having a resolution of 3 arc seconds (approximately 100 m at the equator), were produced for the population count year, as well as for 2010, 2015, and 2020. All these products are available both through the WorldPop Project website and the WorldPop Dataverse Repository.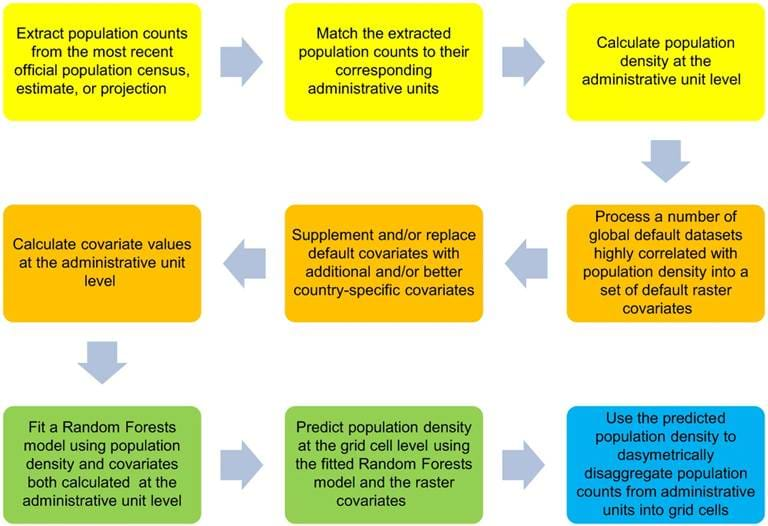 Schematic overview of the Random Forest (RF)-based dasymetric mapping approach used to produce the WorldPop Americas datasets. The preparation of the response variable and covariates is described in the yellow and orange panels, respectively, the RF modelling steps are outlined in the green panels, and the disaggregation of the input population counts from administrative units into grid cells is described in the blue panel.