Our Haiti Mobility Data Platform - released in its beta form - will enable policy makers, civil society, development/humanitarian actors and the private sector to unpack and analyse trends and changes related to mobility in Haiti, for the wellbeing of all in the country.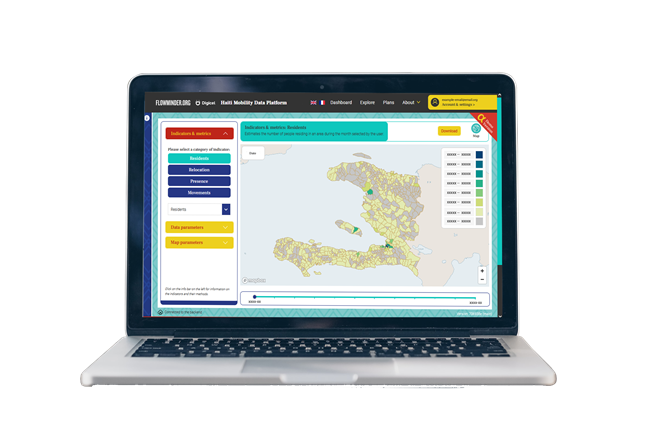 Understanding mobility is essential for decision-making, as individuals undertake daily movements for work, errands, and longer durations such as family visits or relocations. In Haiti, this significance is further amplified due to its vulnerability to natural disasters, making it crucial to comprehend changes in mobility for effective disaster response. A comprehensive understanding of mobility patterns facilitates targeted programme development, efficient resource allocation, and informed decision-making, thereby promoting the wellbeing and development of Haiti in both routine decision-making during ordinary circumstances as well as times of disaster. Using Call Detail Records, a type of data routinely collected by mobile network operators for billing purposes, we can estimate how people move within a country throughout the year, looking at daily, weekly or monthly changes.
This is why we're making available on the Haiti Mobility Data Platform,  in collaboration with Digicel Haiti, a set of 23 routine mobility and population distribution indicators on Residents, Relocations, Presence (experimental), and Movements (experimental). By harnessing the power of data, we can enhance routine operations for ethical and sustainable development and the wellbeing of all in Haiti, as well as improve emergency preparedness, response, and recovery. We've also received further funding to develop and release, in the near future, specific crisis mobility indicators that will be more suitable, and easier to use, for disaster management purposes. 
The most recent, and representative, Haiti dynamic population estimates to date
Our routine indicators are the results of years of research and method development. Our monthly Residents and Relocations indicators have been produced, using survey data and advanced statistical models, to be representative of the whole population, rather than simply reflecting phone usage variations (see continuous development section below). Traditionally, data indicators derived from Call Detail Records represent solely counts of subscribers of the MNO's whose data are being analysed. This is the first time such data on Haiti, at this scale and accuracy, are being made available more widely.
Users can select from two account options: the basic plan provides indicators covering the COVID-19 period, where drastic changes in mobility can be observed (January - June 2020); and the premium account covers the period up to August 2022 (with a release covering January 2020 to present being planned in the coming weeks). You can find more information about our plans here.
In the event of emergencies, we're committed to providing additional support to the humanitarian sector. We understand the critical importance of timely and accurate information in emergency response efforts. This is why we will release short analyses and reports on the affected areas for free and openly.
Navigate with confidence, and get extra support
With its multiple indicators, the solution provides an easy-to-grasp overview of mobility trends over time and makes it easy for users to identify abnormal or significant changes in population distribution across Haiti's communal sections (admin3). To ensure a seamless user experience, we have supplemented the platform with comprehensive user guides and documentation to help you pick the most relevant indicators for your needs.
The platform itself won't give you direct answers on how to respond to those changes, or what decisions should be made from these data, but offers a step change in identifying worthy mobility or population distribution information, or in how you interact with such data. We do provide direct support on the use of the platform, so that you can engage with the insights and spot emerging narratives confidently, as well as offer additional consultancy services so that you can focus on your core course of actions, letting us worry about data interpretation for you.
Ethics, sustainability & governance at the heart of the solution
Like for all Flowminder's activities and programmes, we abide by the strictest standard on data protection and privacy, in compliance with national regulations and the EU/UK GDPR. We also want to ensure transparency and accountability of our outputs towards the communities we serve. That's why we've set up in Haiti an Ethics & Governance Advisory Committee composed of representatives of civil society, independent from Flowminder or Digicel, who will monitor use of the data so that all programme outputs are fair, ethical and transparent. Their oversight ensures that the indicators are utilised responsibly and in the best interest of the country and its inhabitants. Members will also contribute to the identification of new users and new applications beneficial for the country so that our work aligns with the needs and priorities of the local communities.
Continuing the development of the platform
Please note that this is a beta version of the Haiti Mobility Data Platform, which is still undergoing continuous development. The website, its data and all content found on it can be provided on an "as is" and "as available" basis. We will be regularly updating the platform and associated content in the months to come.
Should you encounter any bugs or other problems on the site or dashboard, please let us know immediately by emailing haiti.mobility-dashboard@flowminder.org so we can rectify these accordingly.
Additionally, some of our indicators are marked as 'experimental' (the Presence and Movement indicators). This means they have not yet gone through all of our robust scaling and adjustment methods. We recommend you use these indicators for training and trialling purposes only. Find out more about the experimental categories here. The data quality status document is available here.